Stretch Mark Scar Treatment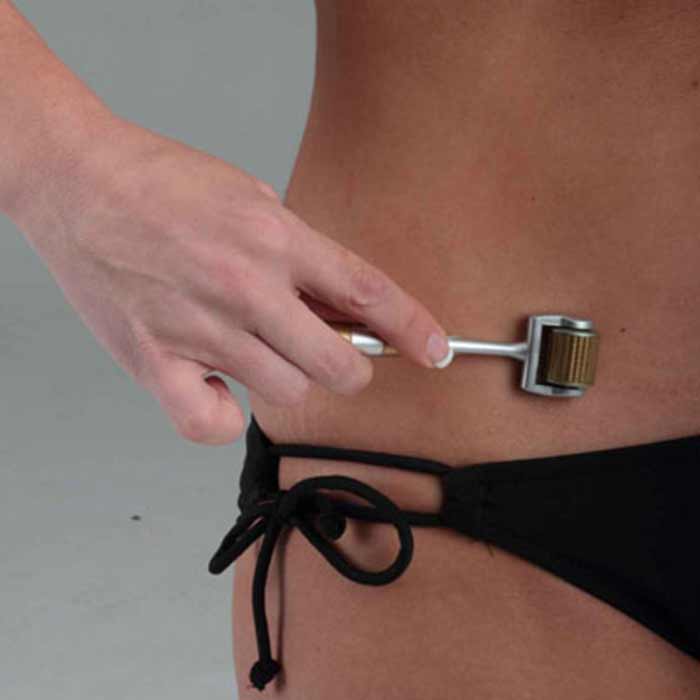 Diagnosis:
If stretch marks are new and discolored Hyper Heal scar cream only is required. Stretch marks can quickly turn indented and white (an inactive state)and will not respond scar cream only treatment. If scars are white select a ReJuveness Derma Roller stretch mark kit.
General Information:
Stretch marks or striae, as they are called in dermatology, are a form of scarring on the skin with a silvery white hue. They are caused by tearing of the dermis, and over time can diminish but not disappear completely. Stretch marks are generally associated with pregnancy, obesity, and can develop during rapid muscle growth from body building. Stretch marks are the result of the rapid stretching of the skin associated with rapid growth (e.g. puberty) or weight gain (e.g. pregnancy), and anabolic steroid use. Although the skin is fairly elastic, rapid stretching of the skin will leave permanent stretch marks. (Source: WD Writers). Stretch marks (also referred to as striae distensae. Medical terminology for these kinds of markings include striae atrophicae, vergetures, striae cutis distensae, striae gravidarum (in cases where it is caused by pregnancy), lineae atrophicae, striae distensae, linea albicante, or simply striae.
Stretch Mark Scarring
Skin micro-needling (derma rolling) is an increasingly common cosmetic procedure for treating stretch marks by stimulating collagen and elastin production.
BENEFITS:
Similar results to laser treatment at a fraction of the cost
Improve all types of stretch mark scarring
Improves effectiveness of topically applied skincare products
Corrects hard to heal white stretch mark scarring
ReJuveness Customer Testimonial:
"If you can catch a stretch mark in the process of healing itself, and are diligent enough with slapping on the Rejuveness, you can forget about stretch marks. I'm just...thrilled with the stuff. No, it's not cheap, but it beats 'professional' scar treatments, and it's paid for itself in releasing me from a twelve-odd year addiction to Retin-A. As a post-script: I have no experience with other scar cream products, but would bypass it even if its substantially cheaper than Rejuveness. I am that happy with the product."