Tummy tuck scar management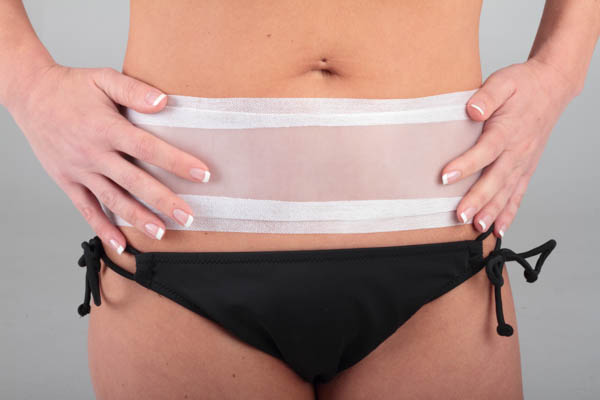 Tummy tuck scars are prevasive and can be a major drawback to this type of surgery. There are several factors to consider in managing this extensive scarring;
Severity of scarring will depend on the amount of skin removed
Adipose tissue being removed means removal of the source of important healing elements
Full tummy tuck will produce more severe scarring than smaller partial tummy tuck
Skin tension along wound edges will be high and can be counter by many techniques
First three to six months scarring will appear worse- don't be alarmed
it will take nine to twelve months before tummy tuch scars will flatten out and lightened
Formally called abdominoplasty the procedure leaves a curved or arched post-surgical scar that can stretch from 15 to 60 inches. For more than 20 years, ReJuveness has worked closely with leading plastic surgeons on tummy tuck scar prevention protocols that begin minimizing the development of unsightly or problem scarring as soon as post surgical treatment is possible. Scientific research about post-surgical tummy tuck scar prevention indicates that topical application of silicone is the most effective treatment for the widest number of patients.
Scar Management Strategy:
ReJuveness Silicone Sheeting as soon as sutures are removed and wound bed is dry
Wide 3 inch wide silicone sheeting will provide splinting to insure superior wound edge support
Taping over silicone sheeting in a criss -cross pattern offers even more wound edge support
Original Rejuveness Non-adhesive silicone offers the highest calcium gradient performance
Original non-adhesive also offers best value- One sheet will cover the entire year of treatment
Adhesive Silicone sheeting will need to be replaced every month or two
Hyper-Heal cream will supply many of the lipids and healing molecules lost from the removal of fat
Scar management combination of silicone sheeting, Hyper-Heal cream and Dema-needling
Also skin tension lines called lines of Langer dictate the curved smile shaped incision across the stomach. Rejuveness Tummy tuck pieces are wider (3 inches) than other brands because the silicone sheet can better act as a cast the support surrounding skin and better assist wound edge compression support as well as accommodate the curved arc of the incision. The patient is encourages to bath with the ReJuveness silicone sheeting, for the moisture activates the hydrolyzation and the healing action of the silicone.
Without proper care, post-surgical tummy tuck scars can become:
hyperpigmented – darkened.
hypopigmented – bleached out.
atrophic – sunken because of the loss of fat or muscle around the incision.
hypertrophic – slightly raised in a way that may regress over time.
keloidal – tough, irregular and heaped-up, usually with a smooth top and a pink or purple color, and a tendency to enlarge progressively.
Tummy tuck scar prevention treatment
Please follow your surgeon's wound care instructions to the letter and discuss your tummy tuck scar prevention options with your medical professional. There are numerous over-the-counter scar treatment modalities on the market today, but your surgeon will be able to best recommend the proper treatment for you based on his or her knowledge of your lifestyle, general health and genetic history.
There is evidence that the most successful silicone-based treatment of problem scarring is achieved when the scar is immature and the overlying epithelium is intact.
Why silicone sheeting is effective in preventing scars is still being studied. Theories that there is a single mechanism – occlusion, hydration, static electricity or pressure – that causes the scar improvement have proven inadequate. The more convincing theories examine the re-creation of the womb-like barrier silicone creates to replicate the kind of scarless healing observed as gestating babies recover from prenatal surgery.
Researchers theorize that silicone replicates the occlusive, or barrier properties of the uppermost layer of skin, known as the stratum corneum. As the stratum corneum regenerates after a wound, it is less effective at protecting the deeper layers of the epidermis from drying out. This dehydration signals to cells in the epidermis to synthesize and release collagen. When the body produces too much collagen, the result is a raised, discolored scar.
The most dramatic manifestations of this process are keloid scars – tough, irregular raised scars, usually with a smooth top and a pink or purple color. They tend to enlarge progressively and have a genetic component. Keloids are technically scars that have evolved into unhealed lesions, continually remodeling.
The ReJuveness research team has discovered that silicones are uniquely biologically interactive with these growing lesions. Each ReJuveness product provides raw materials, affects signal transduction, activates healing cascades, provides mechanical forces or creates intracellular environments to help prevent keloids from forming.
When to use
Fully discuss with your surgeon the specifics of any products you may be interested in applying to your tummy tuck scar. Some of the leading "gel" scar treatments on the market don't contain silicone at all. For example, the active ingredient in Mederma® is an onion extract derivative. Some "scar" treatments are actually collagen-based, adding back the very substance healing skin is over-producing as it forms a scar.
Hyper-Heal Cream is composed of ceramides, cholesterol and essential fatty acids identical to those that make up the top layers of skin. These skin-identical lipids penetrate into the skin and rebuild the stratum corneum from the inside out.
The ReJuveness® Original Tummy Tuck Scar Sheet comfortably covers the curved arc of the tummy tuck scar. Simply tape the corners with ReJuveness Hypoallergenic tape and cover with a post-surgical garment or pantyhose. ReJuveness makes self-adhesive silicone sheeting, but we do not recommend it for scars as large as tummy tuck. The larger adhesive sheets can be awkward to handle and become less adhesive after a few days. The adhesive also plugs the pores and interferes with the active action of the silicone sheeting.
A note about price
Besides being the best performing silicone sheeting The ReJuveness® Original Tummy Tuck Scar Sheet offers a great value when compared to other silicone sheeting products. As you and your physician weigh your options, remember that only one ReJuveness sheet is needed for a treatment period of up to a year.
While you can wash and reuse a single ReJuveness sheet with a gentle soap again and again between uses, other silicone gel sheets fall apart after a month or less. The math is simple: $99 for a 3-inch by 20-inch ReJuveness sheet that remains effective throughout the treatment period, or $15 to $40 for significantly smaller patches that may need to be cobbled together to cover larger treatment areas and will need to be replaced after a few weeks, if they don't fall apart sooner. ReJuveness scar management can save you a $1000 or more over over brands while yielding superior results
Rejuveness silicone sheeting is also the safest and most effective silicone sheeting on the market.
SEO Keyword: Tummy Tuck Scar Management