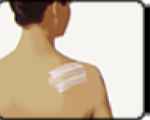 The ReJuveness small scar products are specifically designed for treatment of scars that have resulted from mole removal scars, small burn scars, small cut scars, small incision scars, small acne removal scars, small post-surgery scars, etc. With the combination of the ReJuveness scar healing silicone sheets and the Hyper-Heal scar cream, small scars have been proven to blend into the skin returning your skin to its normal, revived state.
When applied immediately after the scar is completely dry, problem scarring can be avoided altogether by producing a smooth and even colored finish. ReJuveness silicone sheeting has shown impressive results on specifically hypertrophic and keloid scars, returning the skin to a flatter, smoother finish while also helping to fade out the discoloration of the scar and bring out your normal skin tone.
Hyper-Heal scar cream is recommended in conjunction with ReJuveness silicone sheeting for a complete scar healing result. ReJuveness has created a 17 gram version of the Hyper-Heal scar cream specifically for small scar users. Only a small amount needs to be applied to the scar in both the morning and night, making the 17 gram cream an economical choice for small scar users.