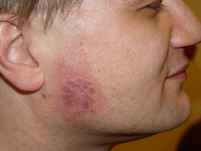 ReJuveness the most comprehensive method for the healing or red discolored scars.
Guaranteed Scar Treatment. Includes 1 Washable and Reusable Silicone disk for ankle scar treatment Plus 4' of ReJuveness Tape. Effective for 6 Months of Treatment - Results in 1 - 2 Weeks - Average Healing Time 1 - 3 Months.
Product Features
* Clinically proven scar management for all scars regardless of type and location
* Softens, smooths, improves texture, color and thickness of problem scars
* Eliminates itching and pain that so often accompanies problem scarring
* Cost effective, easy to use, soft, pliable and durable medical grade silicone
* Reusable and washable, just one sheet needed for up to 6 months of treatment
Safety Information
Do not apply to open wound.
Indications
For scars up to 40 years old when their condition involves discoloration, keloid, Hyper-pigmentation, lumpiness, itching, soreness or indentation.
Ingredients
Pure professional medical USP Grade 6 silicone sheeting
Directions
Apply your silicone sheet after the wound is dry and not oozing any liquid. Apply for minimum of 8 hours per day up to a maximum of 48 hours before washing and re-applying for next treatment period. The longer you wear a silicone sheet the faster your results will occur. Place ReJuveness - either side up - directly on your scar. Sheet should overlap your scarred area by at least 1 cm (1/4") all around. Use tape that comes in the ReJuveness package to hold silicone on scarred area. After each treatment period wash with anti bacterial soap and towel dry.
Product Description
ReJuveness silicone sheeting is a FDA Class-1 medical device clinically proven and guaranteed to provide results with our non-invasive scar treatment. Topically applied ReJuveness silicone sheeting has been shown to be effective for scar therapy in over 50 studies, regardless of the scar type, location, and age. An international panel of scientists and experts on scarring, reviewing all the studies and literature on available scar treatments, determined silicone sheeting to be a leading non-surgical evidence-based scar treatment for scar management and scar prevention. Works Better Than Adhesive Silicone Sheets That Require Tape After a Few Days of usage, Adhesive Clogs Pours in Silicone Sheeting Reducing Effectiveness and Is More Costly Over the Treatment Period.
Testimonials
"I just wanted to thank you so much for selling a product that really works. I am now able to look myself in the mirror without crying. Your silicone sheets have healed recent scars on my face caused from acne. The scar cream in combination with the silicone sheeting have raised indented scarring on my face to almost unnoticeable to even me. And when I say even me, I mean that I am obsessed with flawless skin on my face. I am going to use your products on every scar I have and I know I will be satisfied. My scar on my face healed to almost gone in only two weeks. Thank you so much and I will be sure to pass on the word to everyone I know. Thanks Elanor, New Jersey ".
"I Have Tried Everything Before, that didn't work and this really works! My scars have become lighter and are disappearing after only two weeks - that's why I am coming back for more. This is great! I.A. New Hyde Park".
"Your Products Have Been Working Like a Miracle ! -Tamaki"