Scar Treatment Success Stories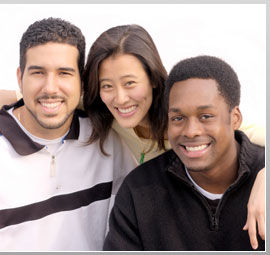 Story 1 - Auto Accident
I have just recently started using ReJuveness for the treatment of my scars and I am truly excited and overwhelmed by the amazing results that have come about in only two weeks.
My infant daughter and I were involved in a serious auto accident 5 months ago. My femur bone was shattered and a metal rod was inserted into the bone marrow to stabilize the leg. I was overjoyed at the fact that I would be able to walk again, but when I saw the scars from surgery I fell apart.
On my left buttock I have a five inch long diagonal scar surrounded by little red dots from the staple closures. People may think that five inches is not much, but as you see, I am at the tender age of 18 and have many years of swimsuit wear left.
My second scar is located on the side of my left knee. This too looks the same as the other but is only 1 1/2 inches long. This scar was produced from a screw being secured at the bottom of the rod on my femur. No one offered an explanation as to if the scars would ever diminish although the attending surgeon said that the staple closure dots would disappear after the
removal of the staples. Well, guess what? They never did disappear and only made the scars look worse. Day by day I sat recovering and thought there was no hope for these hideous scars. With summer just around the corner I really thought I would never have the self confidence to wear a bathing suit again. Because I had so much time on my hands, I was constantly buying fashion magazines and books. This is where you guys come in!! I was flipping through a magazine and I carne across the million dollar words, "HEAL SCARS, DON'T HIDE THE". Those were the words I had been waiting for I read on as I bit my nails hoping this would be the answer to my "summertime blues".
Of course I was very skeptical, but I was desperate. I was so excited that I went straight to my father, Ron Hughes, who is the manager of well known drug store', Longs Drugs. He said he would have one of his pharmacists jump right on it.
Story 2 - Bad Knee Scar
When I received my first ReJuveness patch I was very skeptical. I thought for sure people were trying to make a profit by selling pieces of silicone saying they will heal your scars. My mind quickly changed as I ran the patch across my arm and the hair stood straight up.
I was very eager and put the patch on the scar located on my knee, following the easy instructions. I was amazed at how easy it was to put on and how flexible the patch was I swear to you the next morning after having worn the patch for 10 hours, I could see a difference. It was not dramatic, but it was significant. The red dots surrounding the scar had faded some and the scar itself had lightened a little.
I ran straight to my mother and showed her the difference. She too was shocked to see the change as was my father who I had shown later that day. Within the next few weeks the staple dots did disappear and my scar became smooth and changed to a light pink color. I was so happy with my investment that I had my father order another patch for the scar on my buttocks.
Meanwhile my father, Ron, caught on to my hype and decided to order some for his pharmacy to sell to customers. He ordered seven of your most popular size patches. He simply placed a free standing ad like the one in the magazine on a shelf. Within one week he sold them all and had customers requesting more. He decided to take this one step further and introduce other Longs Drugs Stores with his results. There are now 3-5 more stores now carrying your product successfully.
In conclusion, I want to thank you for a product worth investing hard earned dollars in. I feel you have put a lot of confidence in people who thought they were scarred for life. I know you have given me the confidence to begin a search for the ultimate bikini!
I am truly interested in sales of your product. I would seriously be interested in any testimonial, advertising you may need. I am currently seeking employment and would love to represent your product in the Bay Area and even traveling. I really feel an infomercial would benefit your company. I would love to be involved in that type of advertising also.
Story 3 - A Doctor's Story
I have been using ReJuveness silicone sheeting for the amelioration of a wide variety of hypertrophic scarring secondary to acne vulgaris with dramatic results. I introduce the sheeting to the site gradually and increase the (a.) wearing time and (b.) The potency of topical acne medications and exfoliants very gradually as the patient's skin becomes acclimated to the occlusive sheeting and the active ingredients. The sheeting helps reduce the thickness of the scar tissue dramatically in a surprisingly short period of time, can be washed twice daily without disintegration, and lasts for the entire duration of ongoing acne management.
Introduced to the skin gradually, and in the absence of irritation other than erythema, regular use of the ReJuveness during evening hours and/or while sleeping actually helps active topicals like benzoyl peroxide and glycolic acid penetrate better, like the use of Saran Wrap helps with the penetration of topical corticosteroids in the treatment of atopic dermatitis, including eczema, etc. The difference is that plastic food wraps have little effect on scar tissue itself. ReJuveness causes no atrophy, a certain risk with other scar treatment modalities like Kenalog injections and potent topical steroids.
ReJuveness can be particularly rewarding when used in the prevention and/or treatment of a wide variety of acneiform lesions on patients of color (acne on the jawline, chest and back, razor bumps and unsightly scarring from any cause), especially blacks and Asians. Acne keoiditis, an inflammatory folliculitis generally found on the neck of black athletes due to friction, on black men who have cut their hair too close, and on the scalps of black males due to a lack of barbershop sanitation of clippers, blades, attachments, etc. This condition is chronic and painful and can rapidly cause permanent scarring and alopecia.
Surgical procedures for the removal or revision of scars often come with even greater risk of severe secondary scarring. ReJuveness sheeting, combined with a variety of preventative and non-invasive treatment techniques, is almost always dramatic and, in my experience, makes scar revision surgery unnecessary if the patient is compliant. This is news is a welcome breakthrough, especially for high risk patients.
I first discovered the merits of ReJuveness on burn patients, especially on "Medicaid kids" where the burned child grew out of facial appliances and pressure garments before the lengthy approval process would "OK" the larger garments. On a strictly pro bono basis, I performed weekly alpha hydroxy acid peels on healed graft and donor sites, used sunblocks, lower percentage glycolic acid gels and cortisone creams with great success.
ReJuveness is particularly useful for the reduction of severe scarring on acne patients where the use of Accutane inhibited not only the production of sebum, but also collagenase, the enzyme on the skin responsible for preventing the over-production of scar tissue.
As a contributing editor to several medical textbooks covering post-operative wound healing, I have included this data for publication.
-Advanced Dermatologics News