Non-Adhesive Silicone Sheeting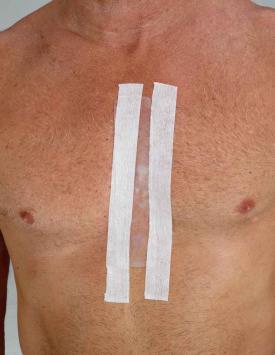 Pro's and Con's of adhesive silicone sheeting.
Pro's - Self adhesive silicone sheeting is kept in place over the scar without the use of medical tape.
Con's - Stickiness is affected by the oiliness of your skin, additional sheet may be required for extended treatment periods.
Silicone Sheeting Study
ReJuveness Silicone Sheeting
ReJuveness silicone sheets are pharmaceutical grade products used by physicians, hospitals and burn centers worldwide. A proven class 1 medical device for treating and preventing problem scarring. Silicone products available in self-adhesive and non-adhesive format.
BENEFITS:
At home all natural, non-invasive treatment
Restores scarring to your skins normal texture and color permanently
Eliminates itching and pain that so often accompanies problem scarring
Easy to use, soft, pliable and durable medical grade silicone
Reusable, just one sheet required for entire treatment
Less costly than physician and spa treatments with superior results
MONEY BACK GUARANTEE
click here for details
Top