Rose Angelique Rose Hip Oil (30ml, 1 oz)

Rose hip seed oil is the ultimate botanical moisturizer, smooths wrinkles, increases color, clarity, and translucence. In addition, rose hip oil makes your skin look fresh, moist and radiant.
Product Features
Improves damaged face, neck, cuticles, nails, hair, elbows, feet, lips, sunburned skin, burned skin
Reverse the aging process of damaged skin
Can be applied under make-up and sun screen
Repairs damaged skin cells
Delivers down through 6 layers of skin
Product Description
Rosa Angelica is the finest moisturizer in history. Get ready to shed that dry look for a soft, younger look that speaks to all who meet you. Rosa Angelica works in stages. First stage is a moisturizing, the second stage is beautiful smooth soft complexion with color tone and freshness of youth. Your skin will feel like dew and will not feel like anything you have tries before. You skin feels as though it can breath and that is exactly what it is doing.
This is not normal oil in any sense of the word, 80% is made of very small molecules of essential fatty acids which bond well with water. The water is the moisture the Rosa Angelica is the bond for that water. Experiment with water; the ratio of water to our Rose Hip Seed oil can be very high. Always feel free to place water on the skin.
Testimonials
"I am the person that used Rosa Angelica on the right side of my face for forty days to see if I could really see a difference. It became obvious to me and everyone who looked at me. It did make a difference. I am fifty eight years old and have spent 24 hours a day for all of those years growing old. Now I am spending 15 minutes a day to help me stay young. Joyce Ware, Mentor, Ohio
"I have been using Rosa Angelica for approximately 3 months, my skin looks better and healthier than it ever has. I am 38 years old and people are starting to tell me that I look younger and my skin glows. Thanks again for such a great product. Deborah Cranston, Canton, Ohio.
"I had stretch marks on both legs from childbirth, now I have a really hard time trying to find where they are to put more on so they will be completely gone. I also had a burn on my wrist from my oven. Well guess what, it's almost gone too. I'm just amazed at the results I've seen. In the winter my cheeks are so dry they burn like a sunburn. So far this winter not one time have my cheeks burned from the cold weather. Even the little crows feet around my eyes have vanished. I don't think anything compares to Rosa Angelica. Mrs. Kandi Hasher, Diamond, Ohio
Do not use on acne or oily areas (including oily or waxy scalp) and use care near the eyes. Wash your hands before using. If allergic to rose hips do not use this product.
For repairing damaged skin cells and reversing aging process of skin which is aged and damaged. Improves damaged face, neck, cuticles, nails, hair, elbows, feet, lips, sunburned skin and burned skin.
Claudio Dario Rose Angelica hip seed oil, borage oil, (wild creafted oils only)
* Can be worn under make-up and sun block

Face

Wash and tone (Witch Hazel is an excellent toner). Leave film of water on skin. Use 3-6 drops or as needed on palm of the hand and spread evenly on hands and finger tips. Now message in upward strokes . Use ring finger to gently pat inward towards nose. Without stretching this delicate part of the skin. Massage until Rosa Angelina is absorbed completely. Use more water to accomplish total absorption of oil. Layer water and oil. Make sure hands are clean.
In dry climates and in winter we are recommending a long message on the face, perhaps at night. Spread 10 drops of Rosa Angelica throughout fingertips and palms of hands spreading through out your face and neck. We have seen some people get 10 layers of water using this method. Finish with a layer of about 5 drops of oil and allow this to vanish into skin. In about a half an hour your face will be like a two year baby's face.
This treatment usually excludes the need to use makeup, but if you choose to wear makeup it goes on easily and smoothly.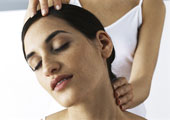 Neck
- same directions as face.

 
Cuticles and Nails
Cuticles and nails will look marvelous and Rosa angelica has been reported to lift nail problems away.
Hair
Hair should be almost dripping wet. Spread evenly throughout hair and scalp… use 4-10 drops or as needed… having spread the drop evenly through your hands. The hair should not show oil, but should look conditioned. Hair should increase its strength, flexibility, elasticity and manageability. Colored damaged hair respond very well to Rosa Angelica treatment. Perm-damaged hair should be restored back to normal in 24 hours. This is a feat no other product can claim. We have found that by regular use massage into hair can prevent hair loss. Adjust drops to what gives you the best final look after washing and blow drying.
Elbows
Normal moisturizers are ineffective on elbows. Put some water on your elbow and message with oil till it disappears. Use regularly to improve and return your elbows to normal.
Feet
After a bath, your feet are still moist put 4-12 drops of Rosa Angelica for a long foot message that not only will relax your feet, but also recondition those hardened, impossible areas. One of our customers has eliminated her pedicures each month after two months of usage.
Lips
Dried lips will not stay dry anymore with this wonderful oil. Skiers have used this extract in frigid conditions with extensive wind and have praised it highly. Massage a little water on the lips and adjust the right amount of oil, massaging oil into lips.
Sunburned Skin
If you are a sun bather or using sun tanning booths Rosa Angelica rose hip seed oil is a marvelous restorer of dry skin into soft moist, smooth and elastic skin. It is important to moisturize sunburned skin before applying oil. Always check with doctor on serious extreme burns.
Burned Skin
Moisturize with water before applying Rosa Angelica oil. Always check with physician with serious extreme burns.
Also good for: Diaper rash, Insect itching, Skin itching