Age Spot Treatment
Removing Age Spots
If you have developed age spots and are feeling self-conscious about them, there are age spots treatment available that can help. There's no denying that age spots can add years to your appearance and make you look older than you need to. Age spots can not only influence the way people perceive you, but can also adversely affect the way you feel about yourself. The good news about age spots is that one of Rejuveness' leading skin healing products is being successfully used as an age spots treatment. This multi-purpose cream has been shown to counteract the effects of age spots and help restore skin tone consistency.
What are Age Spots and What Causes Age Spots to Form?
Age Spots or sometimes called 'liver spots' are blemishes on the skin associated with aging and exposure to ultra-violet radiation from the sun. They are also known as 'age spots', 'old age spots', 'sun spots', 'lentigos', or 'senile/solar lentigines'. They range in color from light brown to black and are located in areas most often exposed to the sun, particularly the hands, face, shoulders, arms and forehead. In spite of their name, liver spots are not related to the liver, rather to the liver coloration of the spots.
From the age of 40 onwards, the skin is less able to regenerate from sun exposure and liver spots are very common in this older age group, particularly in those who enjoy being out in the sunshine. Liver spots have been known to proliferate in some individuals under emotional distress.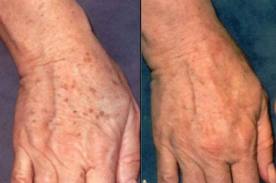 Formula number 4 is a combination of proprietary oils that fade away brown spots.

$29.95

Availability: Item In Stock
(There are no items in your cart)
Name:

Email Address:

Age of Scar:

Color of Scar:

Type of Scar:

Your Question:



[ HIDE ]